2010年7月23日金曜日
2010年7月18日日曜日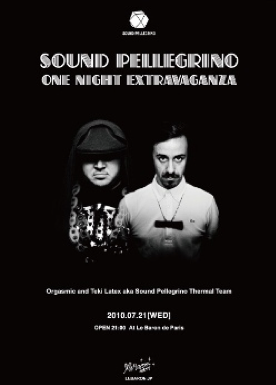 7/21(wed) @ Le Baron de Paris




Sound Pellegrino One night Extravaganza with Orgasmic and Teki Latex aka Sound Pellegrino Thermal Team



Guest Music Selectors:


Sound Pellegrino Thermal Team


DEXPISTOLS
KIRI
GAINES
P.O.L STYLE

Le Baron Resident Music Selectors:
Romain (from paris)

Open 21:00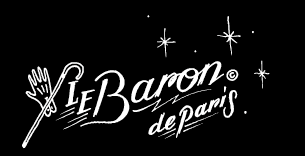 サウンドペレグリーノ


ヒップホップの影響と共に、新しいタイプのグルーヴィーでさわやかなハウスミュージックは人気が高まっています。
そしてアーティストであるサウンドペレグリーノはこのようなエキサイティングな音楽ジャンルの最前線に立っていることを誇りに思っています。DJ OrgasmicとTeki Latex (エレクトロニック ヒップ ホップ グループ TCC) によって構成されています。
サウンドペレグリーノは2010 年注目のレーベルの1つとしてすぐに定着しました。Zombie Disco Squad, Harvard Bass, Momma's Boy , Douster などの作品をリリースし、たくさんのDJから関心を寄せられています。 そしてLaidback Luke, Mowgli, A-Trak, Bart B more, Sinden, Pete tong, Riva Starr, Chloe など大勢のDJから多くの賞賛と賛辞を得ています.
tumblr
→
http://soundpellegrino.tumblr.com/
Sound Pellegrino Thermal Team


Put together by renowned DJs Orgasmic and Teki Latex (from electronic hip hop outfit TTC), Sound Pellegrino has quickly established itself as one of the labels to look out for in 2010, releasing singles by Renaissance man, Zombie Disco Squad, Harvard Bass, Momma's Boy and Douster, generating interest by A-List DJs from all ends of the dance music spectrum and receiving plaudits and compliments from DJs such as Laidback Luke, Mowgli, A-Trak, Bart B More, Sinden, Pete tong, Riva starr, Chloe and many more.
Today Orgasmic and Teki Latex (Sound Pellegrino) who are the two faces of the label, unite to form the Sound Pellegrino Thermal Team bringing an exciting new sound to any nightclub they perform. Going through various musical phases, Sound Pellegrino Thermal Team has always explored forward-thinking dance music that makes the crowd go crazy. Mixing ingredients ranging from tribal rhythms to pumping tech-house, electro and warped funky sounds with a touch of club rap thrown in for fun.

tumblr
→
http://soundpellegrino.tumblr.com/
2010年7月13日火曜日
2010年7月11日日曜日
2010年7月7日水曜日
2010年7月4日日曜日
2010年7月1日木曜日